sweet GREECE – Restaurant & Café in Dresden's Old Town!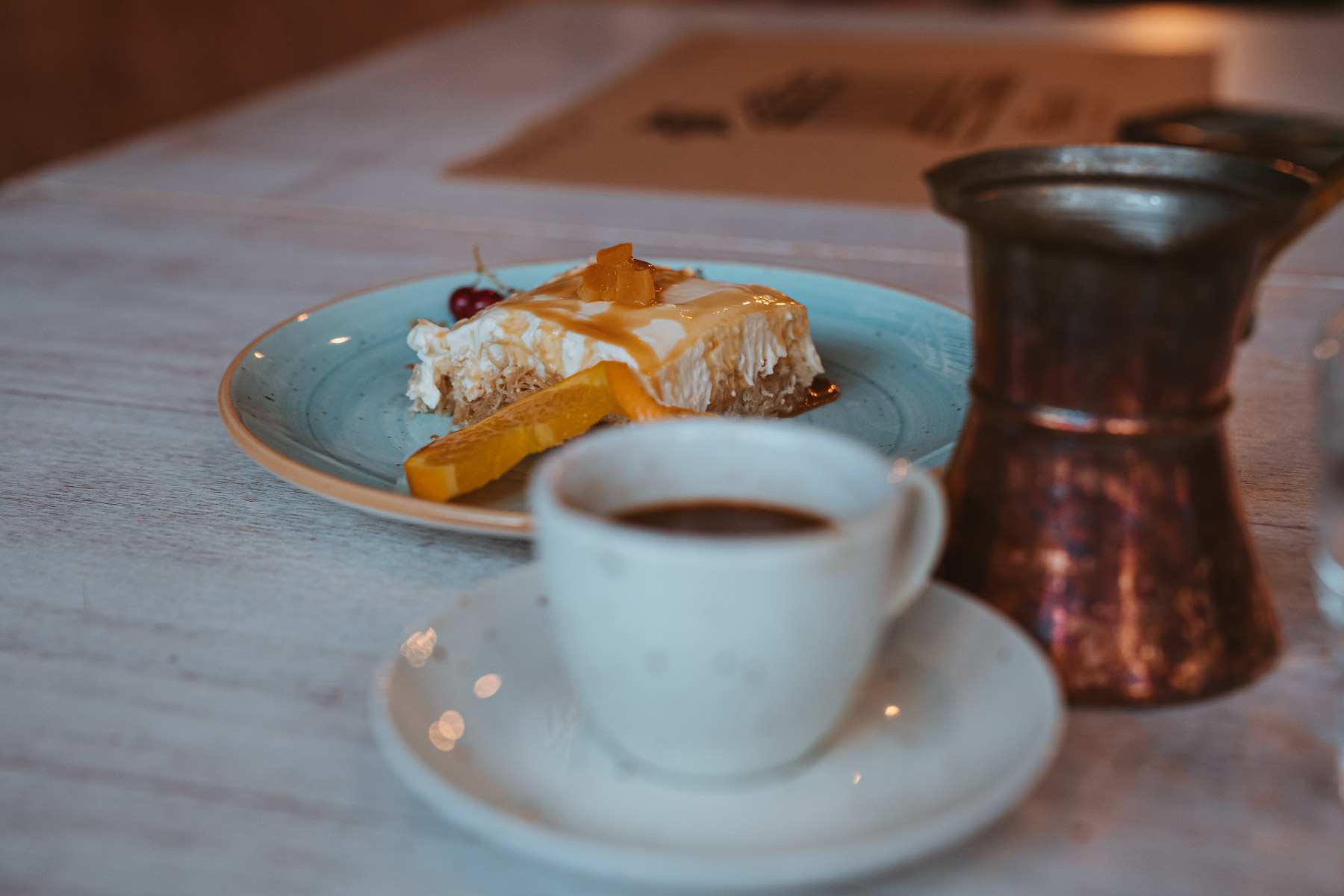 Café in Dresden's Old Town – in our Greek restaurant sweet GREECE
At sweet Greece, the best Greek restaurant in Dresden, you won't only find classic Greek dishes. One of our many specialities is our café area. Full enjoyment for our customers is particularly important to us. That's why we only offer exquisite coffee from a roastery in Dresden.
Here, too, we always make sure that every taste is covered. There is a wide range of coffee specialities to be found here, and you are welcome to ask for advice. Of course, we don't just offer tasty coffee in our café. To accompany the coffee at sweet Greece, we also offer many sweet Greek specialities that we prepare especially for our guests. We are always creating new treats to provide enough variety. This way, you can easily and deliciously support local businesses in Dresden's old town.

Below we go into more detail about why coffee in Greece is something very special and which Greek specialities can be found in our café. In addition to coffee, we also go into our sweet Greek specialities with regional coffee.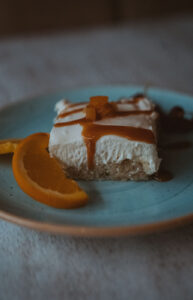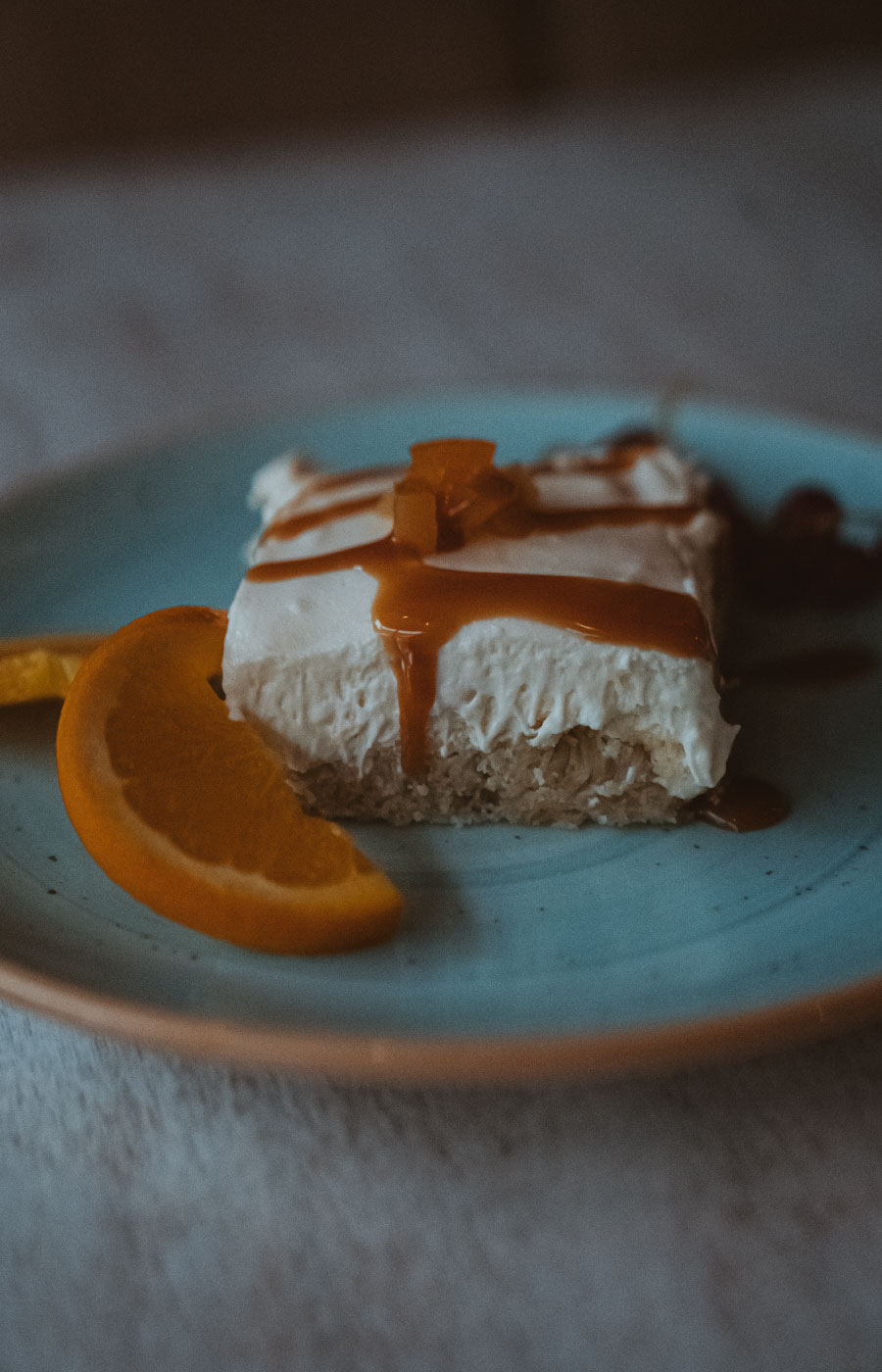 How is coffee drunk in Greece and what are the special features?
In Greece, frappé and mocha dominate the cafés. Greek mocha coffee originally comes from Turkey and was adopted from there. However, the Greeks modified Turkish coffee and were extremely successful in doing so. Greek coffee is not boiled as often as Turkish coffee, which gives it its distinctive taste.
The coffee is also very different from the filter coffee we so often enjoy here in Germany. The preparation of a simple Greek coffee is not that difficult. The roasted coffee beans (often the Arabica variety is used) are ground to a very fine consistency. This coffee powder is then heated with water in a small copper pot called a briki and boiled over a low fire until the mixture rises. For those who like their coffee a little sweeter, you can also add a little sugar.
When preparing the coffee, however, it is important that the coffee mixture is not brought to the boil! Shortly before that, the briki should be taken off the fire. After that, the coffee is ready and can be enjoyed. The Greek coffee is then served in a demitasse. This Greek speciality is similar to espresso in colour and size, but tastes completely different.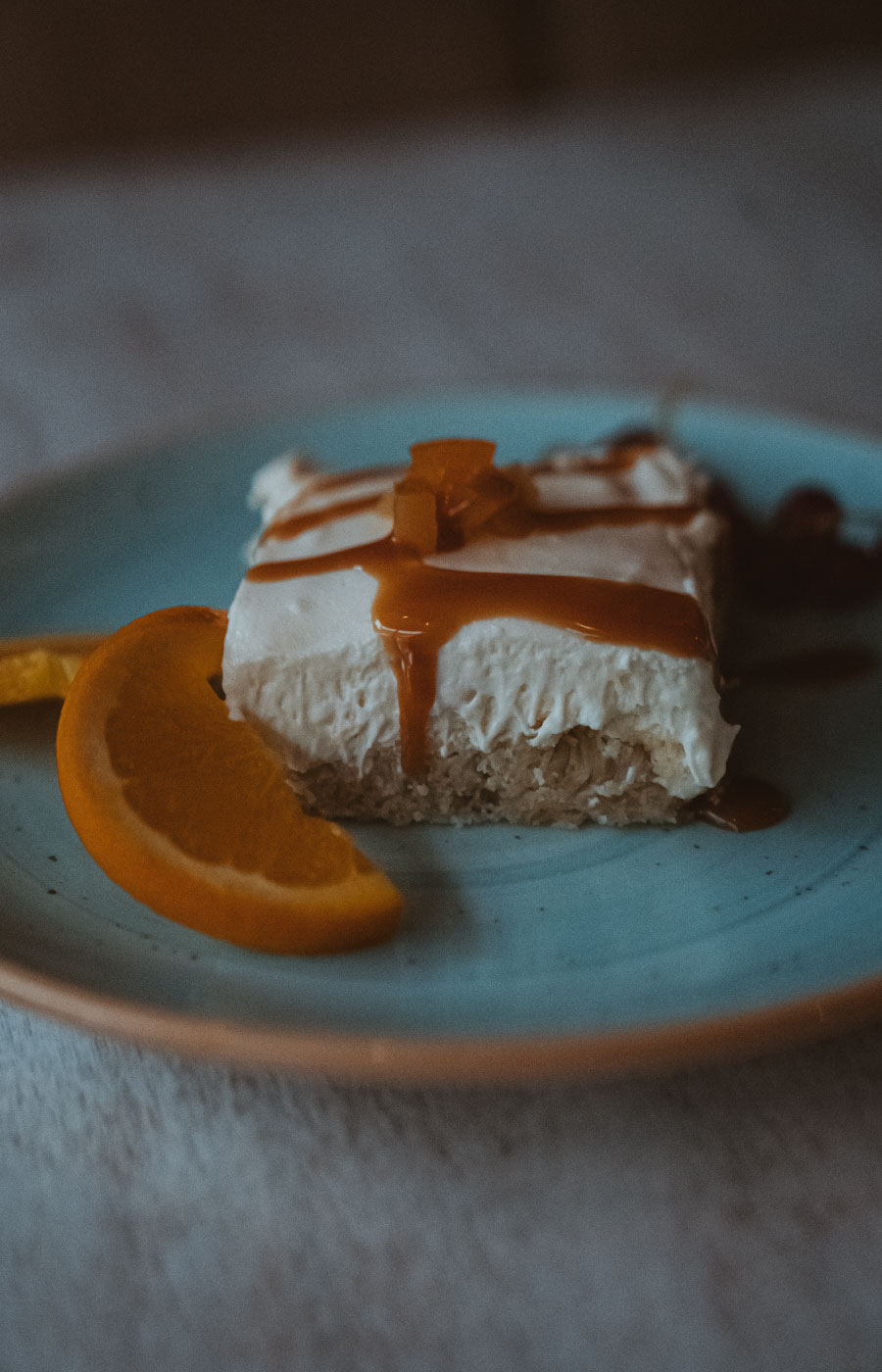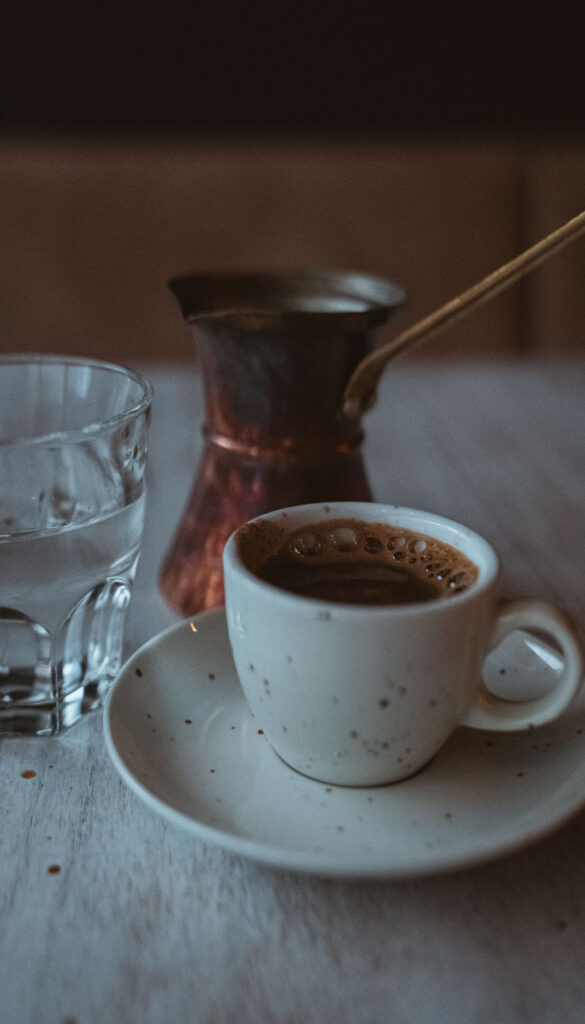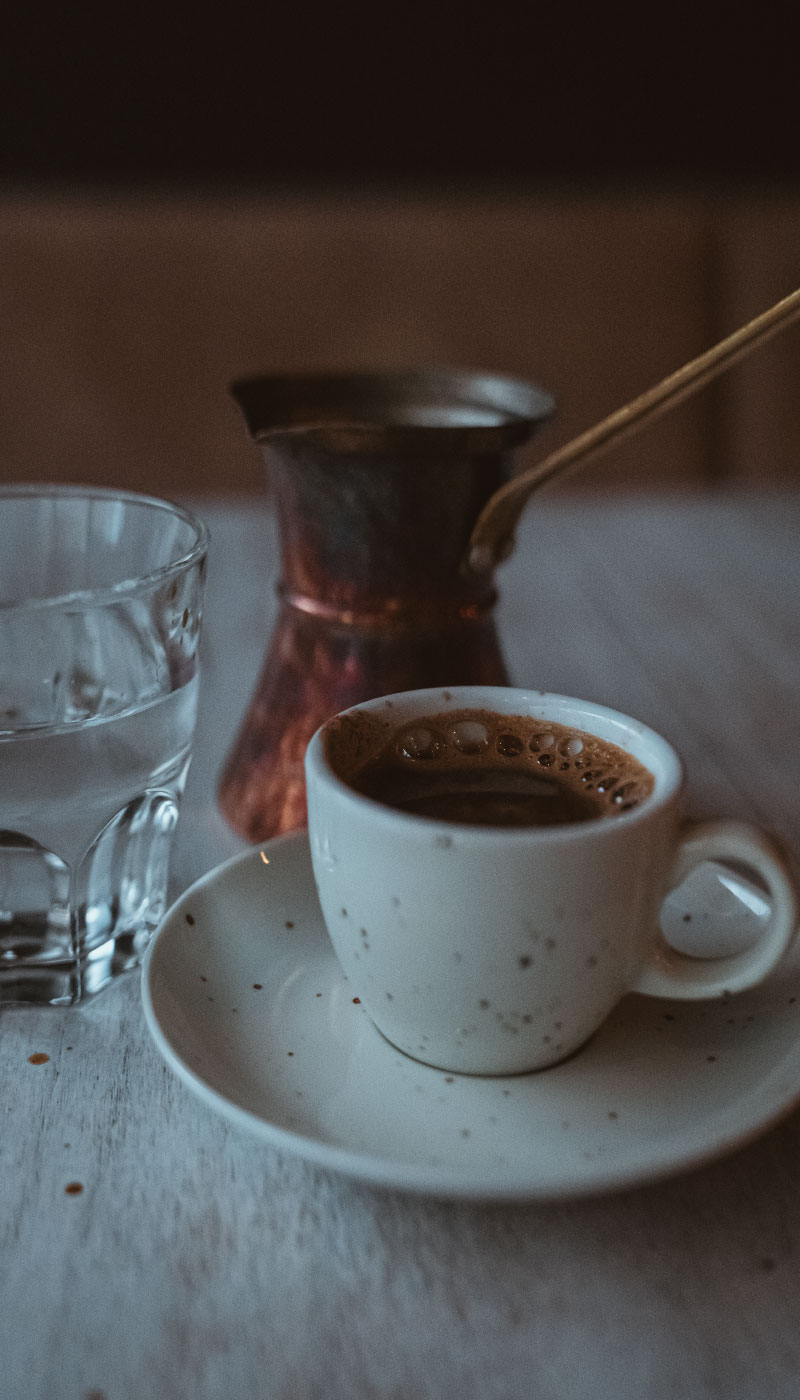 You can enjoy this unique taste and traditional preparation in our café in Dresden's Old Town. As with traditional dishes, time is also taken to enjoy the coffee. In Greece, it is typical to sit down for an hour over coffee with friends and family. So the Greek joie de vivre can be enjoyed at our café in sweet Greece. If you want to learn more about our food and the Greek way of life, feel free to check out our block posts.
Besides the hot mocha, there are also many cold drinks to enjoy in our Greek café. One of the best-known specialities is the café frappé. This is probably the best-known cold coffee drink in Greece. It is particularly popular in the summer, but can also be delicious in the winter after a warm meal and really round off a visit to a restaurant in sweet Greece. As it gets extremely hot in Greece in the summer, Greeks have discovered frappé as a way to cool down and still enjoy coffee.
In addition to the food, drinks are of course also included to round off the perfect Greek experience. Among other things, you'll find fresh homemade lemonades, fine wines and ouzo in sweet Greece. Our chefs also get really creative with the desserts. Currently, Greek yoghurt is available in two varieties, either with sour cherries or with honey and nuts. We recommend our homemade puff pastry with feta filling. Who can resist that?
Frappé – The ice cream parlour for warm days in Greece!
However, this is not to be confused with iced coffee in Germany. Instead of a scoop of vanilla ice cream, ice cubes are added to a Greek frappé. This is how we prepare the frappé in the traditional Greek way in our café: First, Greek coffee is boiled. We mix this with a little cold water and sugar. We then pour the mixture into a cocktail shaker and shake it until the frappé is really frothy. The steamed coffee is then poured into a tall glass and topped up with ice cubes and, depending on taste, cream or condensed milk.
If these two Greek specialities from our café in Dresden's Old Town are not for you, then we also have many other drinks that you can enjoy. Our cappuccino, espresso and latte macchiato are just a few of the coffee variations we offer. If you want to find out more about our drinks menu, just check out our website or social media channels.
Besides the delicious food at the best restaurant on Prager Straße, you can also enjoy the incomparable Greek hospitality. It is important for us to introduce the Greek style of life to each and every guest. More about the Greek joie de vivre can be found at our Blog. Here we have presented the Greek joie de vivre in detail. Another speciality is the traditional ouzo after the meals. Of course, it's a must for us and really rounds off a meal. Come by and get a taste yourself!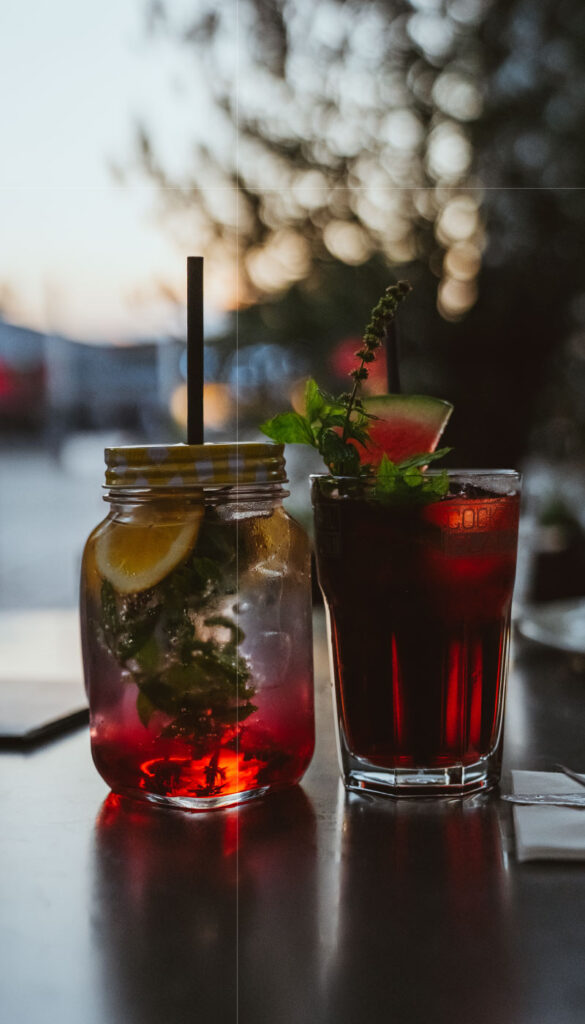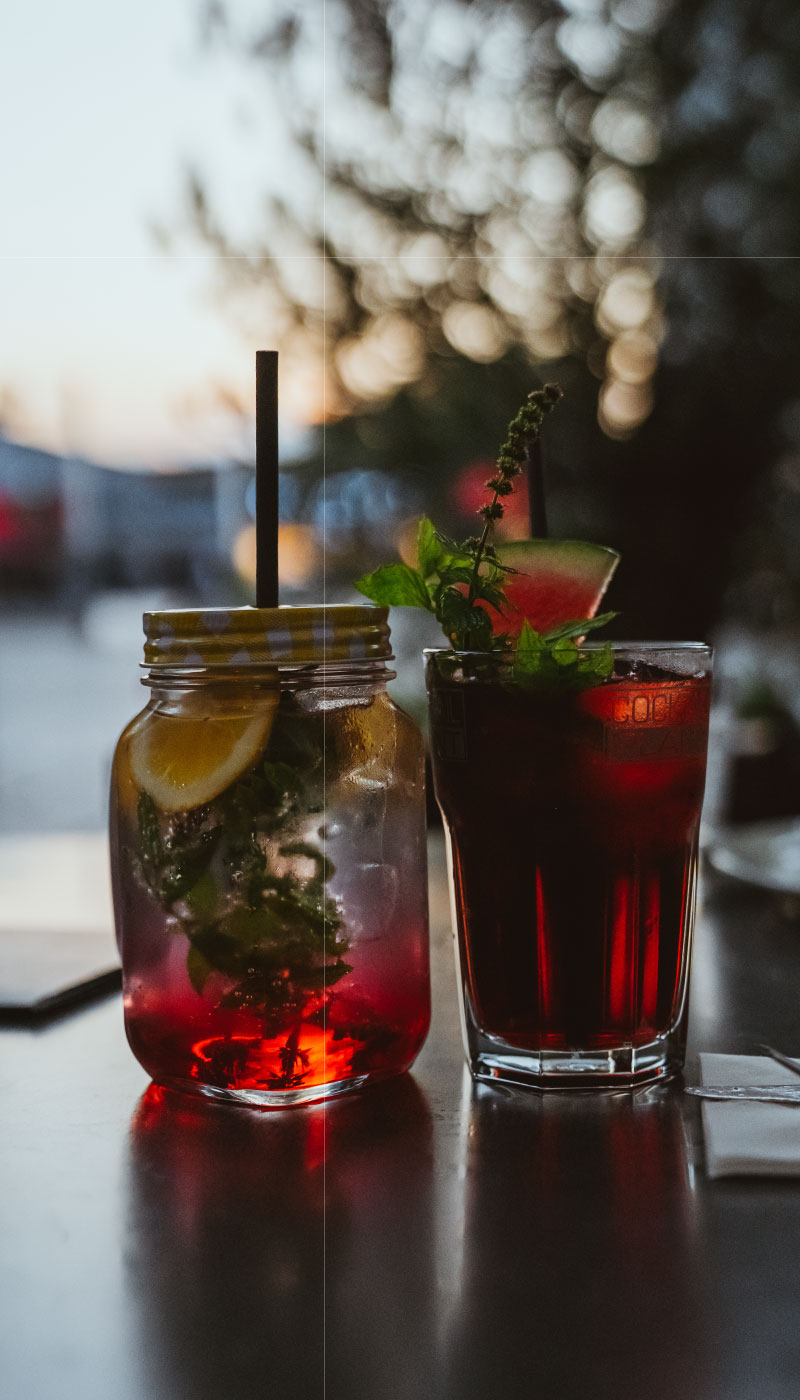 Sweet Greek specialities with your coffee!
In addition to our variety of Greek coffee specialities, we also offer a selection of Greek desserts that we prepare especially for you. This is simply part of a visit to a Greek coffee shop. One of our specialities is the Greek style cheesecake. With an extremely airy, fresh base as a foundation, topped with a sweet and creamy curd layer and rounded off with caramel sauce, this is the recommendation for our Greek mocha.
Of course, we also serve classic Greek yoghurt. We offer this in two delicious varieties to make your decision really difficult. You have to choose between sour cherries and honey with nuts. If the decision is too difficult for you, you can of course order both options and share our dishes with your loved ones.
To provide the necessary variety, we always create new treats to match the seasons.
We use fresh ingredients at all times to make your sweet Greece experience the best possible. Other specialities that you can enjoy with a Greek coffee are our homemade baklava or a delicious cream slice. For more great dishes, feel free to drop by and let us surprise you.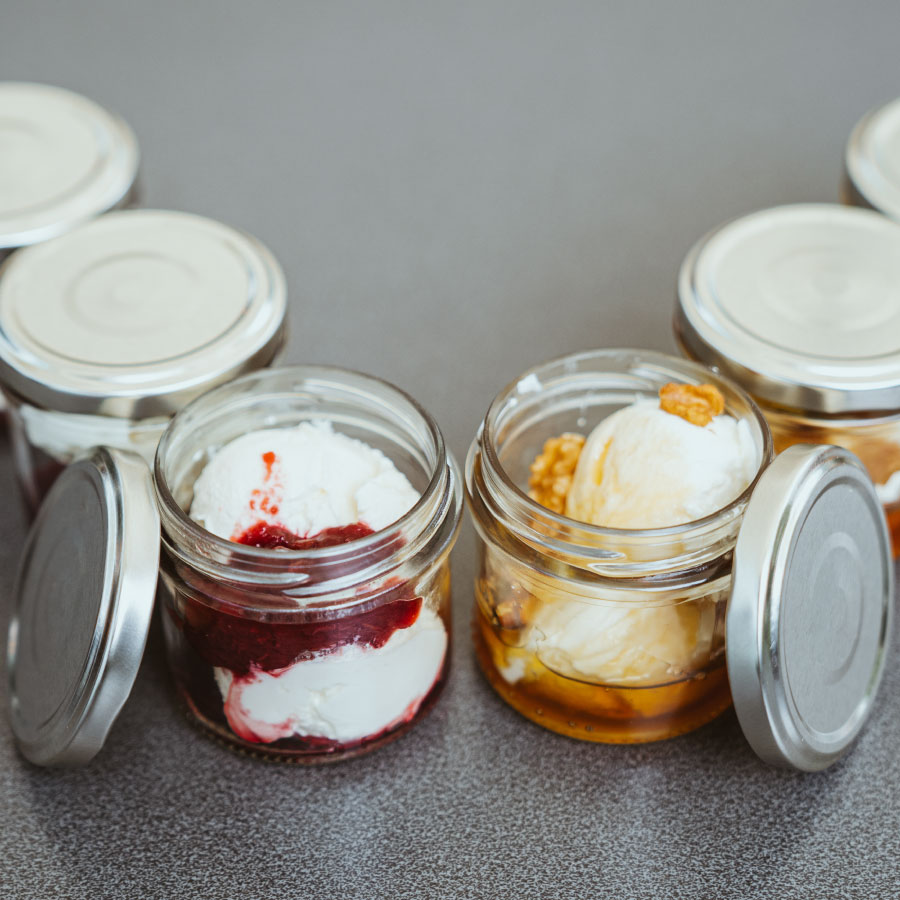 Café ambience in our Greek restaurant – the sweet GREECE on Prager Straße!
You can enjoy our excellent coffee from a local coffee roastery and our sweet Greek specialities in our modern, industrially furnished restaurant. It's up to you whether you meet up with your friends or family in our indoor area, enjoy the Greek joie de vivre outdoors under the open sky in our outdoor area or simply order and enjoy to take away.
We make sure you have the best experience possible. We hope that this article has whetted your appetite for Greek. If you need more information or would like to book a table directly, just check out our website and contact us on our social media channels. We look forward to hearing from you soon and welcoming you to sweet Greece in Dresden's Old Town.