Don't just look for any Greek restaurant in Dresden – come to sweet GREECE!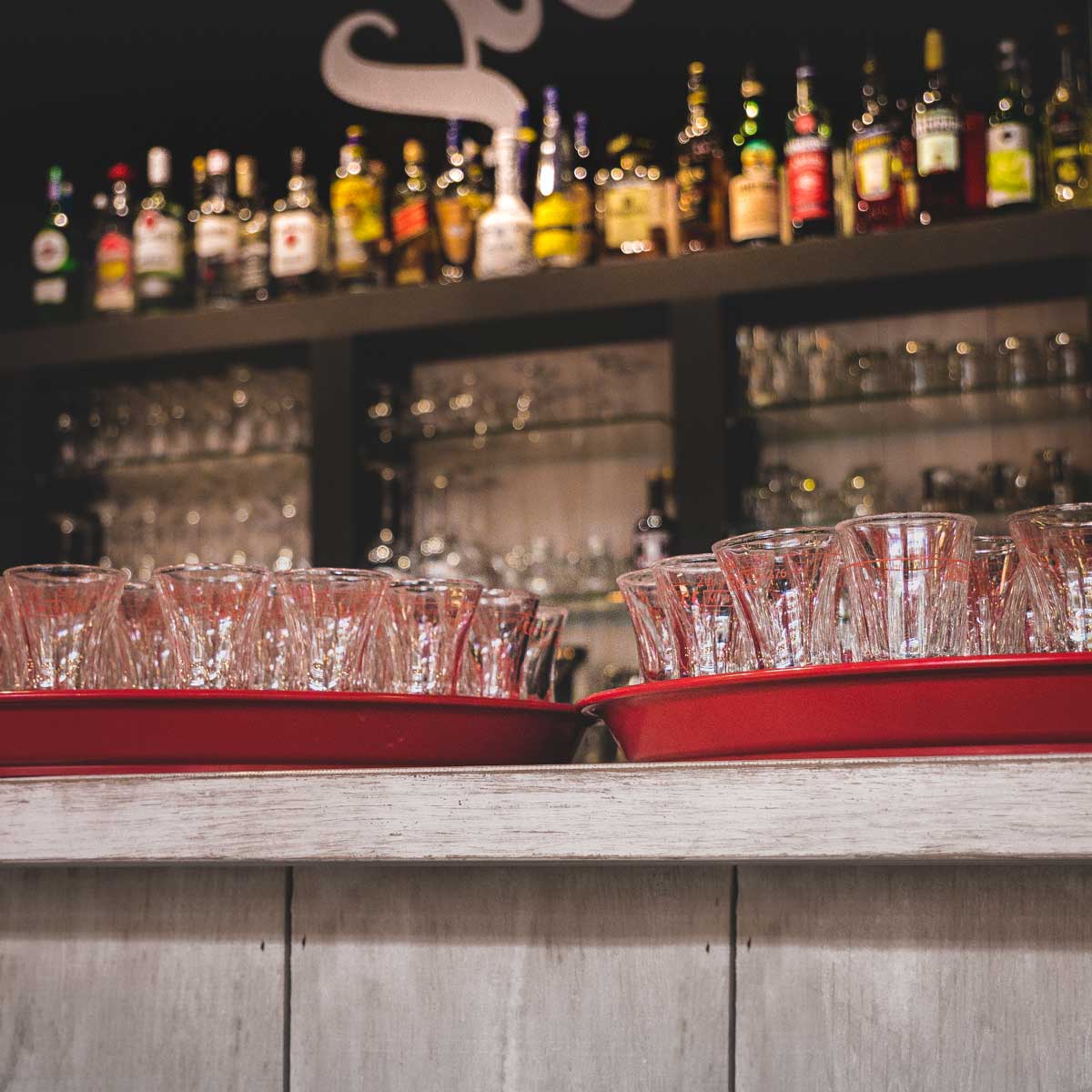 If you want to enjoy authentic and modern Greek food in a modern, industrial style while experiencing the Greek joie de vivre, then we are the Greek of your choice. At sweet Greece, the best Greek restaurant in Dresden, you will find much more than traditional dishes. Since our move to Prager Straße, we have been following a modern concept that lets you experience the Greek joie de vivre in addition to our authentic Greek cuisine.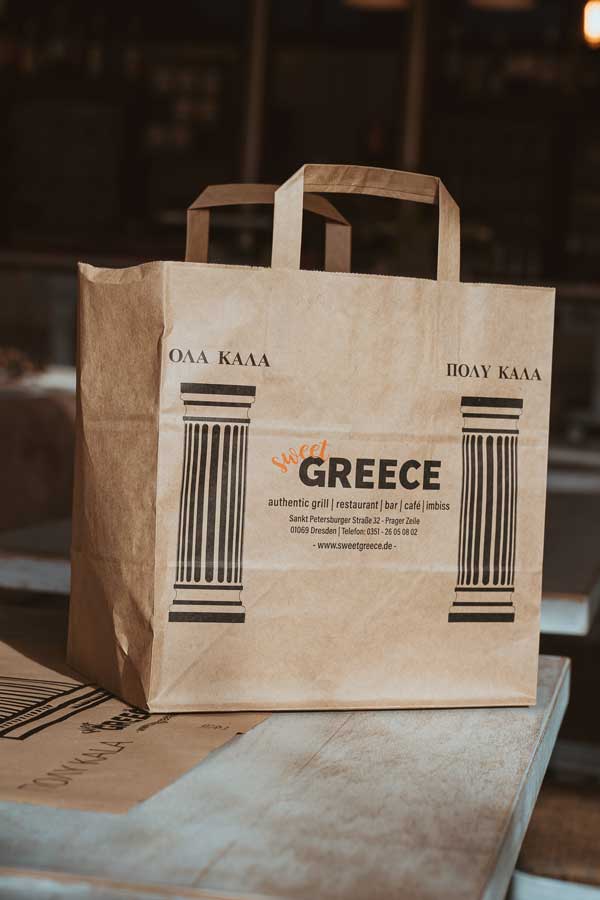 We combine an industrial interior with traditional and modern reinterpretations of these dishes. This is how we ensure that you, as a guest, always have a unique experience in the best Greek restaurant in Dresden. In addition to the traditional dishes, we also always have new interpretations of these dishes to ensure sufficient variety in our Greek cuisine. This sets us apart from conventional Greek restaurants. You will find sweet Greece in Prager Zeile in the heart of Dresden. You can book directly online here.
THE greek Restaurant in Dresden - sweet GREECE
In addition to our industrial Greek restaurant, you can also enjoy our authentic food outdoors. So with the warm temperatures, you can also reserve a table in our outdoor area and enjoy our authentic Greek dishes. The ambience is simple and industrial, as in our indoor area, but the Greek flair is not lost. Large umbrellas protect you from both too much sun and a short summer shower. If you would like to reserve a table in the outdoor area, please contact us directly here.
Even if you're not hungry, you can check out our modern concept in sweet Greece with one of our many drinks. These include a wide selection of fine Greek wines. Let our experienced staff advise you on how to really immerse yourself in the Greek joie de vivre and experience an unforgettable Greek evening. You will find a wide variety of red, white and rosé wines.
Modern and Authentic - we serve fresh specialities from greece
The sweet Greece is the very special Greek restaurant in Dresden that you absolutely have to visit to experience the Greek joie de vivre. With us, no guest is short-changed. One of our unique selling points is a modern and authentic cuisine with a wide variety of dishes and drinks. On our menu you will find numerous traditional dishes that we prepare individually for each guest. The freshness of the individual ingredients is particularly important to us.
To satisfy people with a certain curiosity and willingness to experiment, we try to reinterpret traditional food to ensure an unforgettable experience for each and every guest. For example, in addition to classic dishes such as bifteki, you will find numerous new creations in our Greek restaurant. One of our newest interpretations of traditional Greek dishes is the bifteki with grilled fruit.
To round off the dishes, authentic drinks are of course also part of the package. Here we recommend our homemade lemonades for those of you who like to experiment. The pomegranate and the cucumber & lime lemonade provide a refreshing change.
You have questions or comments about our Greek food and drinks? Then feel free to contact us on Instagram, Facebook or by phone.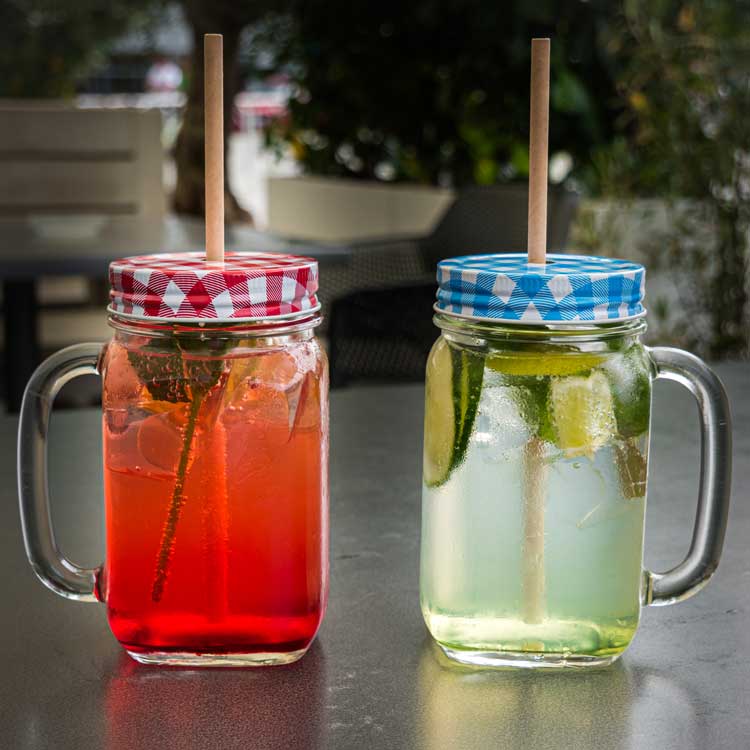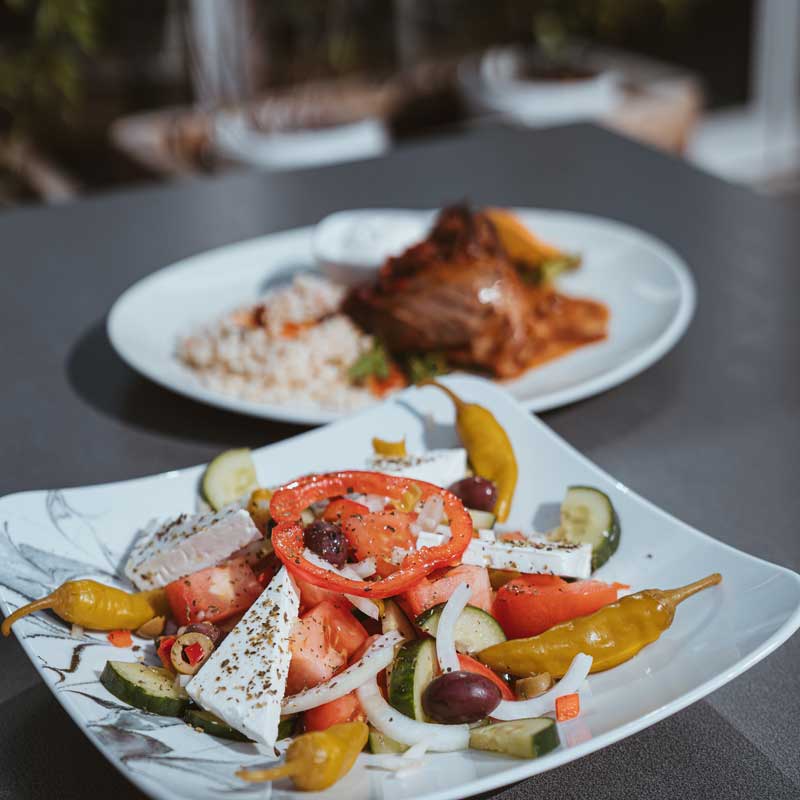 Not just any Restaurant in Dresden - we are THE greek Restaurant - sweet GREECE
If you sometimes find it too difficult to choose the right dish for your incomparable Greek evening, we can recommend the following dishes and drinks:
Let us show you some of our greek specialities!
Gyros Pita
If you're a fan of Greek gyros but don't always have time to sit down in a restaurant, then the Gyros Pita is the perfect choice for you. Our gyros pita is served with homemade fries and fresh salad and is perfect as a snack to-go. This authentic Greek food is handy, simple and unbeatably delicious. The modern Greek wrap/pita is a real classic from our Greek restaurant.
Bifteki with grilled fruits
The traditional bifteki is a speciality of our Greek restaurant. If you want to try a new creation from our authentic cuisine, we offer the classic bifteki with summery side dishes. As a summery side dish, you get selected fresh fruit from the grill. This combination of traditional and modern cuisine is perfect for summer and perfectly reflects our modern concept.
Alpha-Burger
Another combination of traditional and modern Greek cuisine is our Alpha Burger. Another combination of traditional and modern Greek cuisine is our Alpha Burger. This new creation is served in a homemade bun and pork patties, lettuce, onion, cucumber and tomato. For the sauce, you can choose between tzatziki and Greekchup.
Lemonade: pomegranate or rather cucumber-lime?
Drinks are of course a must when visiting a Greek restaurant. In addition to a wide selection of selected Greek wines, we also serve homemade lemonades. We always prepare our lemonades fresh. These fresh and innovative lemonades perfectly complement the authentic cuisine in our Greek restaurant. So you should not miss anything when you visit. Currently you can choose between pomegranate and cucumber & lime lemonade. These are refreshing and therefore perfect for the warmer temperatures.
After reading this article, you've got a hankering for Greek? Then book a table online or contact us on social media. If you have any questions about our modern concept and authentic food, just contact us or speak to the staff on site.