Welcome
to
sweet GREECE
authentic grill | restaurant | bar | café
---
About our Restaurant
We're happy having you at our restaurant!
Our Specialities
A good meal starts with fresh ingredients and loving preparation! We follow this philosophy and offer you only the best. It is not for nothing that we have been running our Greek restaurant in Dresden for over 27 years now!
Would you like to secure a place in advance?
Book here and experience Greek joie de vivre!
"I read the wisdom of a restaurateur in a magazine at the time who said that he had spent a lot of money on furnishings, food and wine for years, only to find in the end that his guests wanted something completely different.
I am still searching for this "something different" today! "
Adonios Purtsas
Chef of the restaurant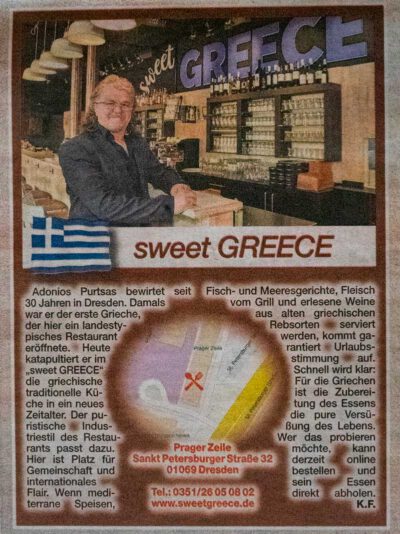 Greek joie de vivre at sweet GREECE in Prager Zeile in Dresden!
With many years of experience, we convince with authentic Greek cuisine. However, at sweet GREECE in Prager Zeile we would like to convey to you not only the culinary diversity of Greece, but above all the Greek joie de vivre.
In the article, the Morgenpost in Dresden presents us – many thanks for the great article!