We show you why Mediterranean cuisine is particularly delicious!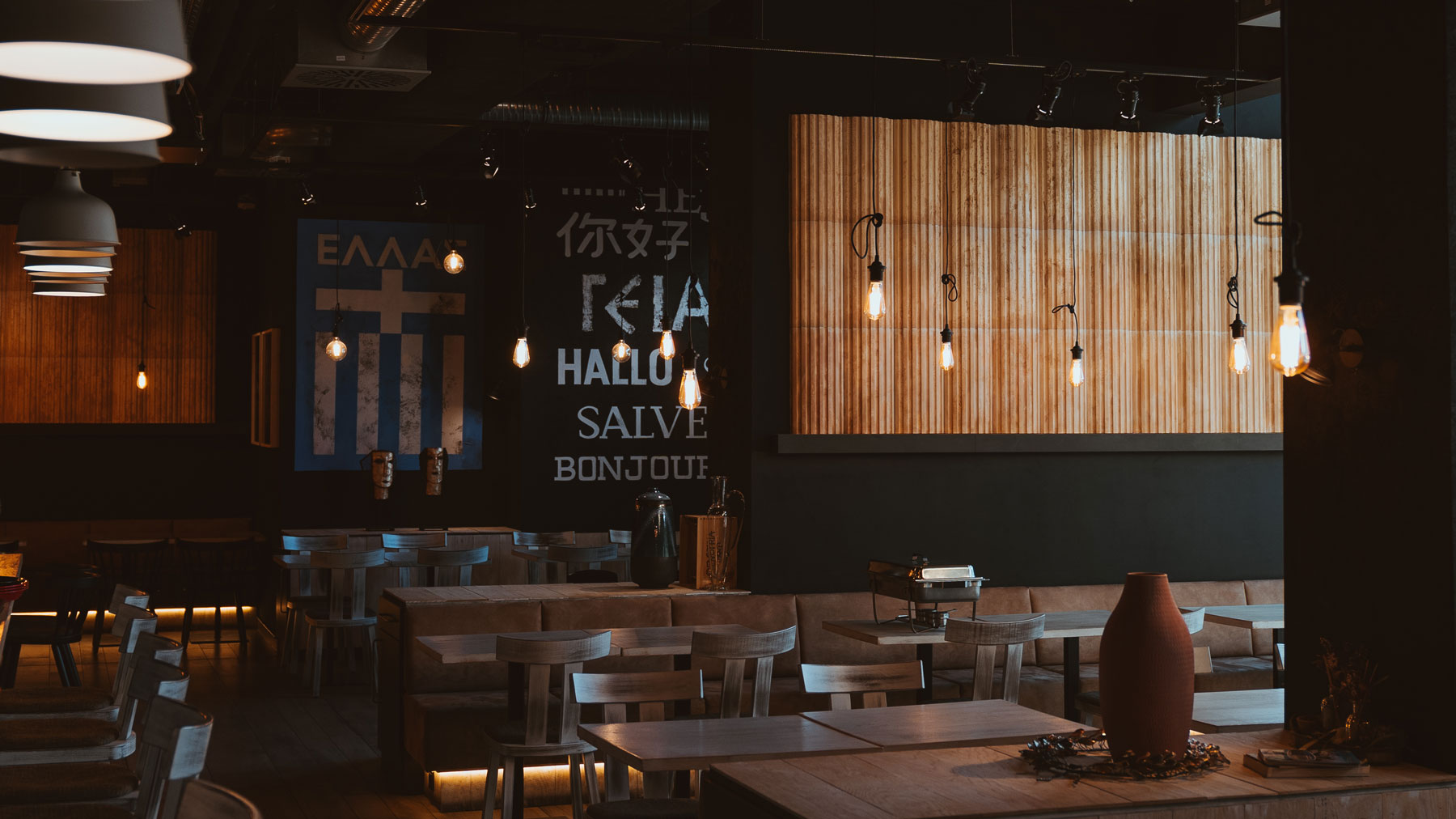 Mediterranean cuisine – what is it?
Many people associate summer holidays not only with the sun, the beach and the sea, but also with tasty Mediterranean food. Mediterranean cuisine has a lot to offer. We would like to show you where the term comes from, which countries belong to Mediterranean cuisine and what special features distinguish them. The countries around the Mediterranean are home to many unique ingredients and dishes that make southern cuisine incomparably delicious.

Mediterranean cuisine is often used colloquially as an umbrella term for cuisines from different countries. In 2010, UNESCO included Mediterranean cuisine in the representative list of the Intangible Cultural Heritage of Humanity. This includes (South) French, Italian, Portuguese, Kurdish, Albanian, Greek, Cypriot, Turkish, Lebanese, Israeli, North African, Lyrian, Arabic, Croatian, Slovenian, Egyptian and Maltese cuisine. As you can see, there are a huge number of Mediterranean cuisines and therefore Mediterranean food. We would like to introduce you to some of them and show you how Greek cuisine stands out.
Some of the basic ingredients from the local cuisines of the Mediterranean region are olives and olive products, fresh vegetables (including tomatoes, aubergines, peppers, courgettes, etc.), garlic, leeks, onions, fish & seafood, various herbs such as thyme, rosemary, coriander, sage, fennel, cumin, aniseed, oregano, basil, light bread, pasta and rice.

In addition to the food, there is also a very special dining culture that makes a meal a social experience that will not soon be forgotten. So often the whole family gets together, friends are invited and partners brought along to share the southern food with as many people as possible. Everyone helps out to prepare a wide variety of dishes so that there is a kind of buffet in the middle of the table ready to be eaten.

If you've already worked up an appetite, book a table at sweet Greece right here or take advantage of our pick-up service.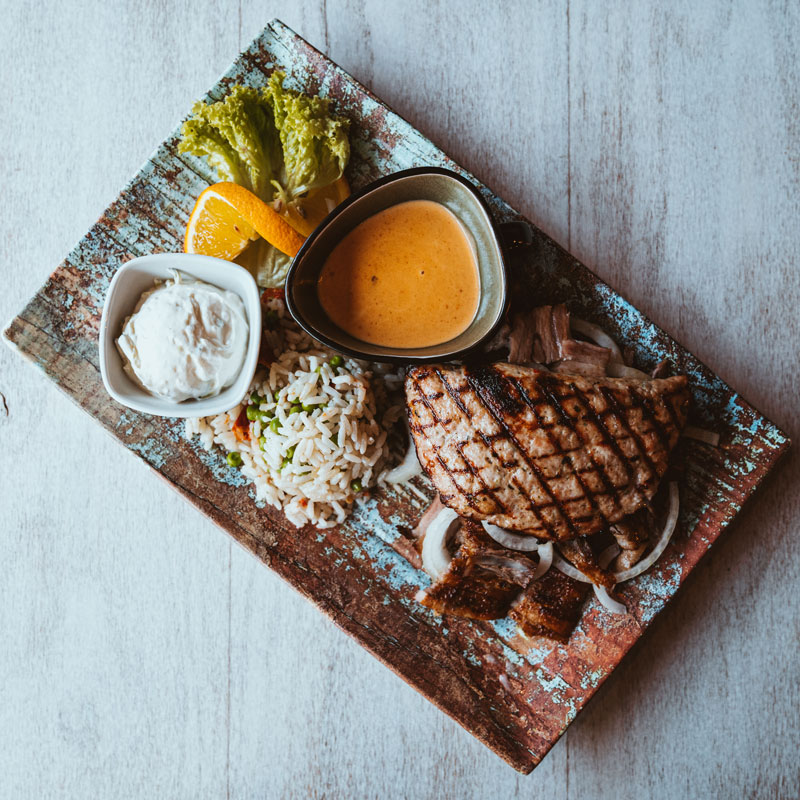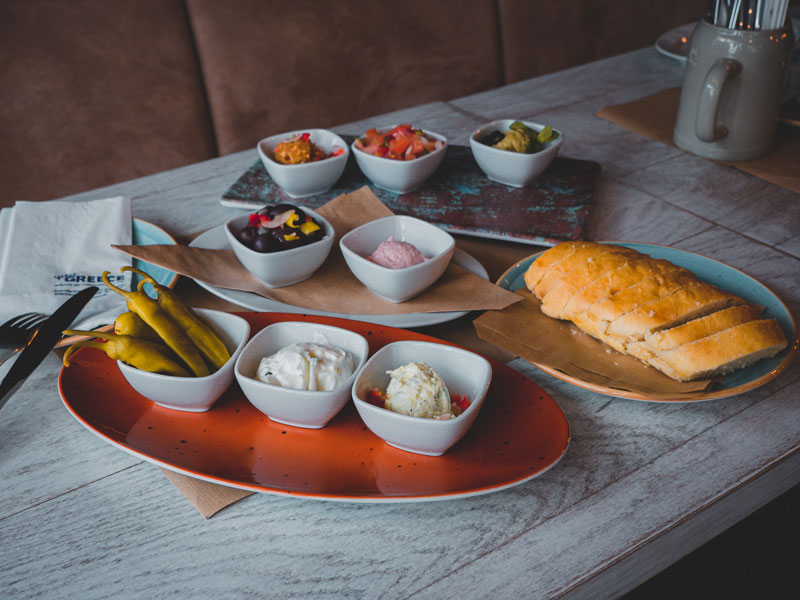 Is Mediterranean food healthy? We clarify!
Mediterranean cuisine often uses a lot of fresh fruit, fish & seafood, herbs and vegetables in traditional dishes. Furthermore, many nuts and products from olives are used. These are unsaturated fatty acids, which have many positive effects on the cardiovascular system, among other things. This combination of ingredients provides the body with a balanced combination of nutrients. These include fibre, antioxidants, vitamins and minerals. There are not only advantages to enjoying Mediterranean cuisine, but it is not as bad as it is always imagined. Not to forget the incomparably delicious taste of southern cuisine.
Italian Cuisine
Italian cuisine is probably one of the most widespread and one of the most popular Mediterranean cuisines with its traditional delicacies. Italian cuisine is as varied as the country as a whole. Thus, Mediterranean dishes can be divided into different regions. In the north of Italy you can find very rich dishes with lots of butter, milk and cream. Northern Italy is also the home of the popular Parmesan cheese, Parma ham and balsamic vinegar. In the central region of Italy, on the other hand, you can find many dishes with pulses and beef. In Rome and the surrounding area, there are other very special homemade dishes such as pasta, gnocchi and saltimbocca.
In the south of Italy, there is a wide variety of pizzas and pastas of all kinds, as well as a wide range of vegetable dishes. Besides the differences, there are also similarities. In Italy, a lot of seasoning is done with fresh herbs, which gives traditional dishes their delicious aroma. The sun-ripened tomatoes and their products can also be found all over Italy. Probably the best-known and most popular dishes of Italian cuisine are homemade pasta, creamy cooked risotto or pizza Margherita from the stone oven.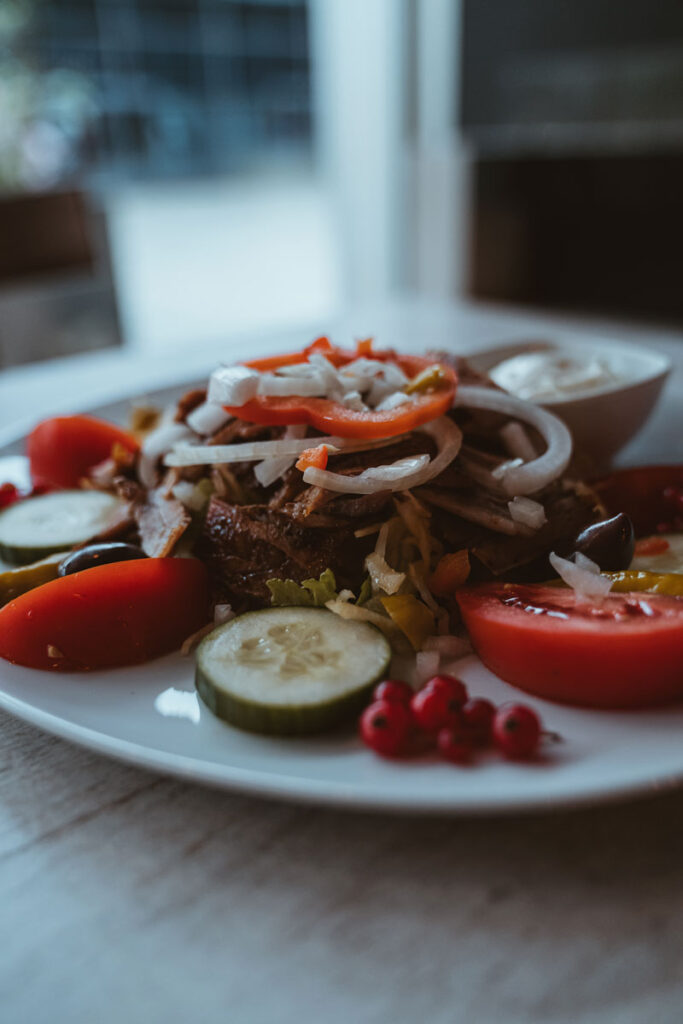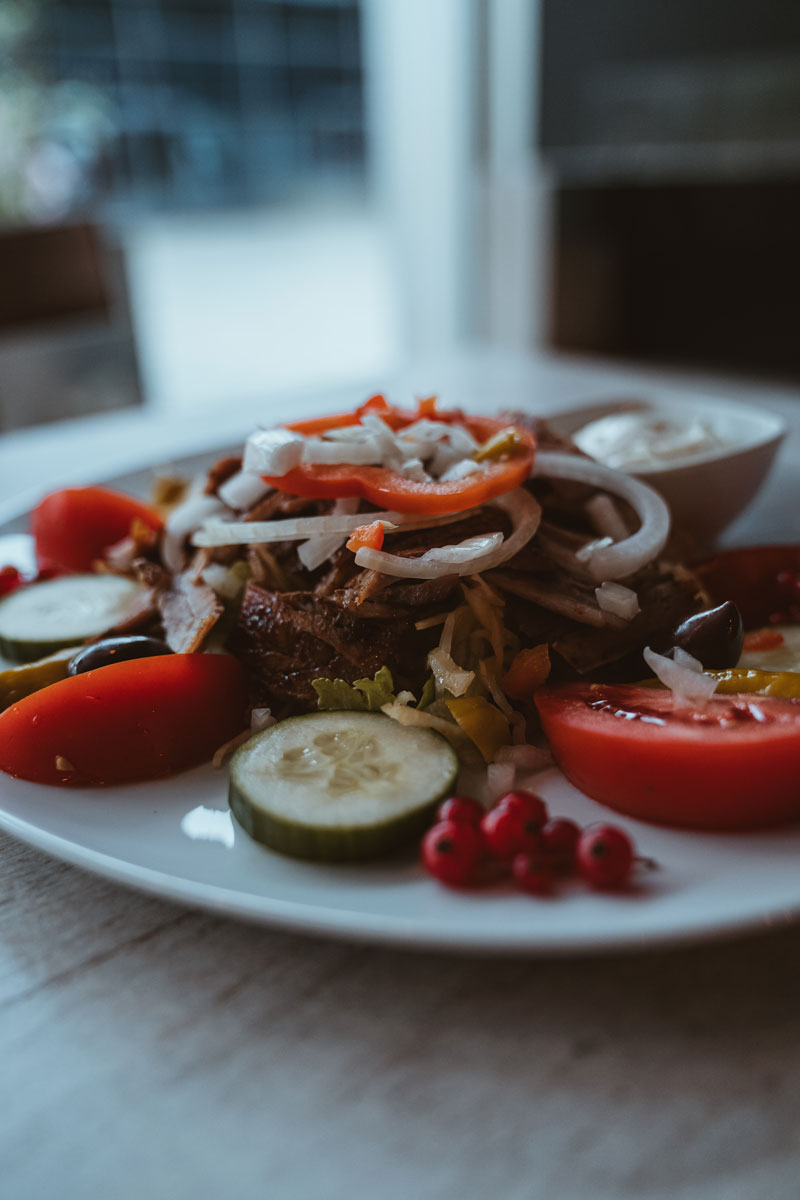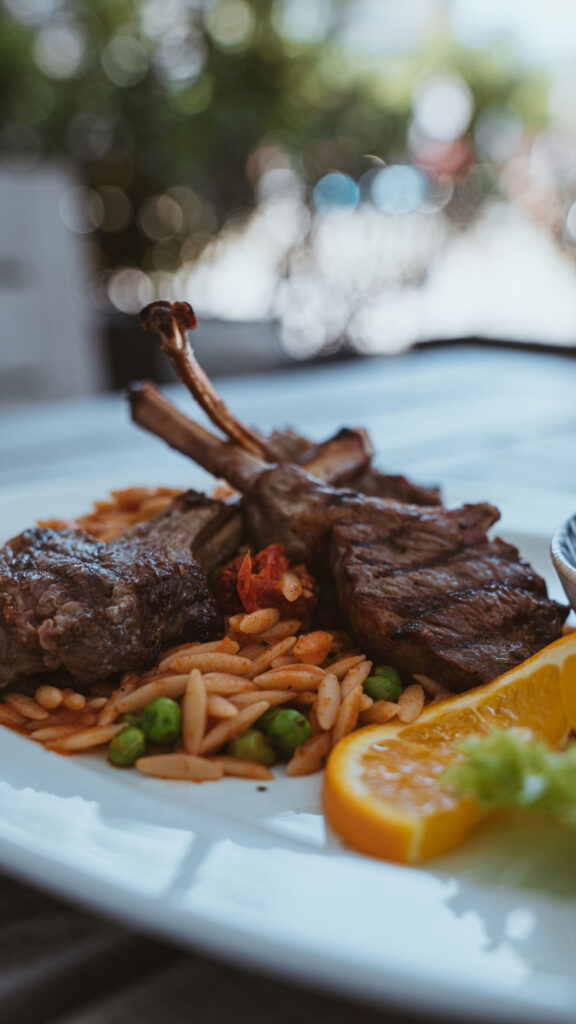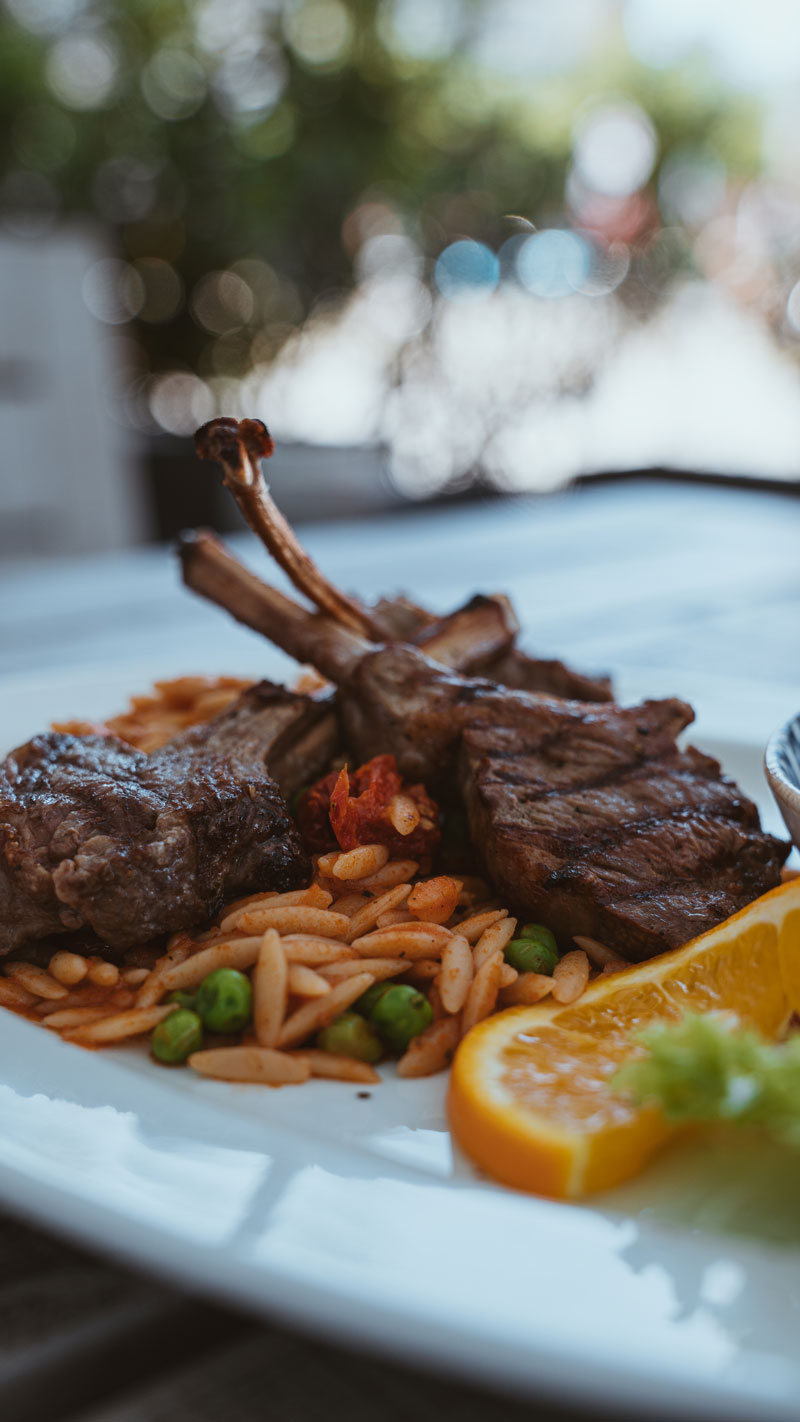 The feta cheese and Greek yoghurt are also side dishes that are often served. Spices such as oregano, thyme and, if it suits the dish, a little cinnamon and aniseed also play an important role in Greek cuisine and give traditional dishes their typical Greek flavour. To satisfy the small appetite, there are no portions, the so-called mesédes. You can't really go wrong here.
What sets Greek cuisine apart from other countries in the Mediterranean region?
Greek cuisine has some special features, which is why it stands out from other Mediterranean cuisines. Due to Greece's geographical location, there were many different influences on traditional dishes. As a crossroads between western and eastern culture and the influence of the Orient, a very special southern cuisine has developed. The geographical features in Greece also contributed to the characteristic Greek cuisine. The traditional dishes are also influenced by the seasons. The harvest is therefore a decisive factor in the dishes, as the freshness of the ingredients is enormously important for a traditional Greek meal. In this way, the different seasons provide natural variety in the Mediterranean dishes.

Besides the varying and always fresh ingredients, however, Greek cuisine is also characterised by another feature. So the meal is not just about the food, but rather a gathering of family and friends with whom to share southern cuisine. This way, stories can be shared, discussed and laughed together while eating the traditional dishes.

If you want to learn more about Greek food and our restaurant, then take a look at our block. We regularly publish articles about Greek food culture.
Spanish Cuisine
Besides Italian cuisine, there are many other Mediterranean cuisines worth mentioning. Spanish cuisine is very special, as there is no single national dish. It rather depends on which region you are in at the moment. The individual specialities are determined by the food that can be grown in the respective region. This can vary greatly. In some regions it is typical to eat hearty stews with beans. This is more typical of the northern regions of Spain. Rather in the south of Spain, a fine and cold gazpachos can be enjoyed. There are also many hearty oven dishes that contain foods like rice, fish, lots of fresh vegetables and also poultry. With all these dishes, of course, paella with its many variations should not be forgotten. It is impossible to imagine Spanish cuisine without them.
Greek Cuisine
Greek cuisine is one of the most special cuisines in the Mediterranean region. Since we love them, we of course don't want to deprive you of what this one is all about. Greek cuisine has so much more to offer than tzatziki and gyros. Have you ever tried the moussaka, for example? In Greece, eating becomes a real experience that you are eager to share with your loved ones. So not only do you get delicious Greek food, but you experience the Greek joie de vivre when you visit a Greek restaurant like sweet Greece. In Greece, a variety of dishes are served at the same time and not one after the other, as is the tradition in other countries in Europe. Delicious side dishes include fresh olives, homemade bread and one of the many Greek wines.